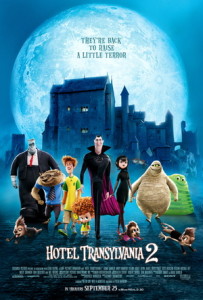 Oh Mah Gawd!! We all loved the first Hotel Transylvania, and I was a bit leery of a sequel as sequels rarely keep the momentum and magic of an original. Hotel Transylvania 2 was an absolute delight.
All the characters return for the follow-on to 2012's "Hotel Transylvania". The movie opens with Mavis and Jonathan's wedding, continues with short clips of their lives for the next five years, including the baby announcement, toddlerhood and depositing us on the cusp of baby Dennis' 5th birthday.
Dracula is concerned young Dennis doesn't have his vampire fangs, he desperately wants his grandson to be a vampire and not just a regular human. He is unsuccessful in "inspiring" Dennis to pop his teeth by taking him on an "adventure" while babysitting as Mavis and Jonathan visit California, but a visit from Dracula's own father at Dennis' birthday party brings about a wonderful "family moment".
I love the underlying messages of acceptance and inclusion. Ultimately, we have no control over what our kids become. We just have to be their parents and love them no matter what.
Considering it is a movie about monsters, vampires and the like, yes there are some moments of mild scare factor. Nothing of any great significance though, and all the situations turn out okay.
A darling early Halloween treat, in 3D or standard.